Monday 30th May 2016. I enjoy the new BBC film of A Midsummer Night's Dream, as adapted by Russell T Davies. Maxine Peake is Titania, Matt Lucas is Bottom. Both are perfectly cast. Ms Peake already has that angular face one finds in Victorian paintings of fairies, while Mr Lucas brings cuddliness to the pompous Bottom even before he acquires the ass's head (and then he really is cuddly, like a giant soft toy). 
It's made with the same team as Mr Davies's Doctor Who productions, the ones with Christopher Eccleston and David Tennant. I'd say it's especially like the Davies mini-series just before that: the David Tennant Casanova. It's that same feeling of a fizzy, dressed-up world operating on a line of tension, with a progressive approach at one end – deliberate anachronisms, multi-ethnic casting, gay characters – and an embracing of popular entertainment at the other. This latest take on Shakespeare went out at 8.30pm on BBC1, so it had to appeal to as many people as possible. Yet it still had Davies's personal vision at its heart: a world where fascist flags are ripped up into party decorations, where love comes in all shapes and sizes, and everyone dances to Bernard Cribbins singing 'It Was A Lover And His Lass'. Can't argue with that.
For all the liberties taken with the story – such as Theseus as a fascist dictator with an iPad – it's difficult to say it's any more radical than an average modern stage production. Since I visited the British Library's Shakespeare exhibition, I've been reading about the Peter Brook 1970 RSC Dream, with its minimalist white squash court, stilts and trapezes. Birkbeck Library has two books about that production alone: a detailed making-of account by David Selbourne, and an RSC script with all the stage directions, where one can study Brook's decisions line-by-line. His Bottom, for instance, merely gains a red nose when transformed by Puck. If a modern production has Bottom with ass's ears, as in the BBC one, it's still more traditional than Brook.
In the press there was a slight fuss about the BBC Titania kissing Hippolyta. This is nothing new. I read that the current Globe production of Midsummer Night's Dream has Helena as a gay man called Helenus, with Demetrius as his lover in denial. The Globe's previous Dream three years ago had Puck and Oberon passionately kissing. That particular Puck was played by Matthew Tennyson, a very pretty young man who happens to be a descendent of the Tennyson. He now pops up in the BBC film as Lysander, with a pair of glasses that rather makes him resemble Harry Potter. I read that as a deliberate nod to the way Shakespeare has direct links to popular culture now. If it uses the English language, it's connected to Shakespeare.
I've also just remembered that there's a lesbian bar on the Charing Cross Road, called Titania.
***
I'm going through my untidy piles of old papers, with a rule of throwing out five things every day. Discarding the ephemeral is easier when you realise it gives more value to the things you keep. And yet I do like the physical evidence of a life; the proof that whatever I've done, I've lived.
Today, with my head full of thoughts of A Midsummer's Night's Dream, I find a couple of letters from Dad that reference that very play.
They're written on the backs of his own photocopied cartoons. One has a tiny Puck flying around the shoulders of two American comic book superheroes. Or rather, two versions of the same superhero, The Flash. One is the 1940s Golden Age Flash, with the winged hat; the other is the later Silver Age incarnation, with the one-piece costume and the mask.
Puck is saying: 'I will put a girdle around the Earth in forty minutes'. The two Flashes reply, 'Been there, done that!'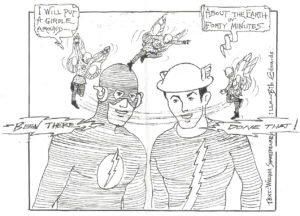 Dad's other cartoon has a tiny Titania offering a rose to Mr Spock from Star Trek. Says Titania: 'Come sit thee down upon this flowery bed / While I thy amiable cheeks do coy / And stick musk roses in thy sleek, smooth head / And kiss thy fair large ears, my gentle joy.'
Mr Spock, who of course has 'fair large ears', replies, 'Fascinating!'.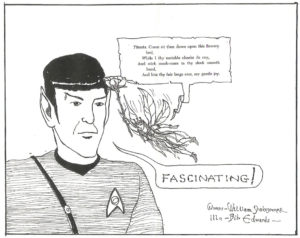 ***
Friday 3rd June 2016. I find a Dutch newspaper supplement from late 2007, where I'm the cover star. Well, that's if the cover of a supplement counts as a cover. It's for an article on Modern Dandies of London (I think). Me alongside Sebastian Horsley, with his two fingers up to the camera. I still live in the same room, albeit with different curtains.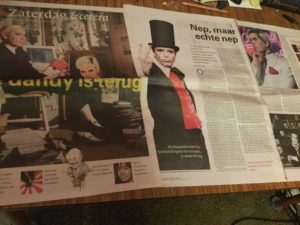 ***
More mopping-up of unpublished activity.
Friday 6th May: While people have stopped me in the street to ask me why I hadn't written more about the death of Prince, no one has yet chided me for my complete omission of the London mayoral election. Perhaps that sums up what sort of diarist I am.
Still, it needs to be said that I did indeed vote. Voters had a second preference, so I gave my first choice to the Greens' Sian Berry, and my second to Labour's Sadiq Khan. Khan triumphed, his victory announced late into the night of the 6th (after an agonising delay of many hours). Ms Berry came in at an impressive third, after the Conservatives' Zac Goldsmith. She also took up a seat on the London Assembly, thanks to the Greens doing well enough on the 'London-wide' polling sheets.
It's the first election result in years where I've felt optimistic about the future.
***
Films seen recently:
Tuesday 17th May 2016: Green Room at the ICA. £3. A horror thriller with the unusual backdrop of a right-wing skinhead music scene, in contemporary rural Oregon. Rather different to the Portland liberals of that same state, as spoofed in Portlandia. But then I suppose it's analogous to the way parts of Sussex can be rather less progressive than Brighton.
Imogen Poots's character has one of those skinhead-scene girls' haircuts that flatter while adding a certain toughness: long at the sides with a sharp fringe at the front (a Chelsea Fringe? a Feathercut? not sure). The boots and braces look for the men is well-researched too – straight out of 1970s Britain, but jostling here alongside iPhones and American accents. Much significance given to the colour of laces in DMs. A couple of the scenes are extremely gory. But then it is meant to be a horror film too. I suppose boxes must be ticked in plot, in the same way that the characters must tick boxes with their clothes, their taste in rock music, and with their beliefs. These days, I find discussions about belonging thrilling enough; blood and violence less so.
Friday 20th May 2016: Heart of a Dog at the ICA. £3. Laurie Anderson's stunning film essay, ostensibly about the death of her rat terrier Lolabelle, but touching on life and death in all kinds of ways, from the passing of friends and relatives, to the changes in New York after 9/11. Her husband Lou Reed's death (which happened during the making of the film) isn't explicitly referred to, but he's there briefly as an actor (playing a doctor), and as himself (in footage of the couple on a beach). He also provides the closing song, and in the very last shot he is seen holding the dog.
At one point Anderson talks about that unhappy experience that most pet owners must endure: going to the vet to hear what she calls 'The Speech'. The one that asks the owner if the pet can be put to sleep. It reminded me how I was recently told, separately, of the deaths of two cats I used to look after in North London: Claudia Andrei's cat Sevig, and Jenn Connor's Vyvian. When Sevig became very frail, Claudia pushed him around the streets of Edinburgh in a shopping trolley – 'the Sevig-mobile'. After seeing Heart of a Dog I realised how lucky I was to have the pleasure of living with these beautiful creatures, without ever having to face The Speech.
Tuesday 24th May 2016: Troublemakers: The Story of Land Art, ICA. £3. A documentary on a group of artists in the late 60s and early 70s, who turned vast, desolate parts of the US into their own canvasses in the pure pursuit of Making Art. I was familiar with the Lightning Field artwork – all those lightning rods against the sky- but I hadn't heard about works like Double Negative, where two gigantic rectangular chunks were carved out of a rocky mesa. According to the credits, some of the works begun in the 1970s are still in progress today.
Thursday 26th May 2016: Love and Friendship at the BFI. Free, courtesy of Tim Chipping, a fellow Whit Stillman fan (we went to see Barcelona together on its 1990s release). The film is followed by a Q&A with Whit Stillman, who is in typically eloquent and wry form. The film adapts Jane Austen's Lady Susan, though there are touches of Wilde in Stillman's script too. It's verbose without ever being dry, and in terms of quips and jokes, it's funnier than most modern comedies. My favourite film this year.
Friday 3rd June 2016: The Witch at the Prince Charles. £4. A tale of supernatural goings-on amongst a family of Puritan settlers, in seventeenth-century New England. Like Green Room, it blends the horror genre with more unusual aspects, in this case, gritty historical drama. The dialogue is lifted straight from the literature of the time: all 'thy's and 'thee's. As with Whit Stillman, the style only works once you realise what the director is trying to do: in this case, make a film that takes folk legends as real without question. It's as if the film was made by seventeenth-century Puritans, as well as being about them.
***
A useful acronym from Atalanta K, who lost her bag after a night of carousing: 'I had a CRAFT moment. As in: Can't Remember A F-ing Thing.'
Tags:
a midsummer's night dream
,
bbc
,
Claudia Andrei
,
dad
,
dandies
,
Dandyism
,
films
,
green room
,
heart of a dog
,
ICA
,
jenn connor
,
laurie anderson
,
love and friendship
,
Prince charles cinema
,
Sebastian Horsley
,
sevig
,
shakespeare
,
the witch
,
vyvian
,
whit stillman