College is currently into its spring break, though there's no visible signs of any actual spring. It snowed heavily last week, and today there's a still a lot of ice on the side streets of Highgate.
Recent outings to record:
Thurs 28 Feb – to the Trafalgar Studios in Whitehall to see James McAvoy in Macbeth: a treat by Ms Laura Miller. Gritty modern dress, or rather gritty post-nuclear war dress – the three witches are in gasmasks and combat trousers, and Lady Macbeth is in jumper and jeans. Chairs are kicked across the stage, there's the crackle and sparks of welding between the scenes, and flickering bare lightbulbs. Mr McAvoy is of short build with a sweet, poster-boy face (seeming about ten years younger than his real age); qualities which made him perfect for Mr Tumnus in the Narnia film. But he is clearly one of those actors who like to play against type. In this Macbeth he is all visceral anger behind a bushy beard, while the Tube posters on the way home show him appearing in at least two 'hard boiled' action movies.
Sat 16 March – I am the guest DJ at How Does It Feel To Be Loved, at the Phoenix in Cavendish Square. It's a Camera Obscura special, to mark their forthcoming new album. Their song 'Eighties Fan' is still one of my favourite tracks of the last twenty years.
My set:
Camera Obscura – Sweetest Thing
The Wake – Carbrain
Supremes – Come See About Me
The Chills – Heavenly Pop Hit
Stereolab – Ping Pong
Carole King – I Feel The Earth Move
Morrissey – Sister I'm A Poet
Strawberry Switchblade – Since Yesterday
Monochrome Set – He's Frank (Slight Return)
Orange Juice – Poor Old Soul Part 1
Beyonce – Single Ladies (Motown remix)
Camera Obscura – Eighties Fan
Shangri-Las – Give Him A Great Big Kiss
Aztec Camera – Oblivious
Dexys – Plan B (single version)
Angela – My Boyfriend's Back
Supremes – Stoned Love
Spearmint – Sweeping The Nation
Aretha Franklin – I Say A Little Prayer
Freda Payne – Band of Gold
Blondie – Dreaming
Smiths – Still Ill
Belle & Sebastian – Women's Realm
Camera Obscura – French Navy
Nancy Sinatra – These Boots Are Made For Walking
Labelle – Lady Marmalade
Gloria Jones – Tainted Love
The Who – Substitute
Stereolab – French Disko
Sister Sledge – Thinking Of You
Ian Watson introduces me to a couple of superb new bands: Haiku Salut and Hospitality.
Photo from the night, taken by Mr Watson (www.howdoesitfeel.co.uk)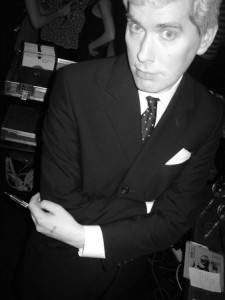 I've been DJ-ing roughly once a year at the HDIF club night since it started in 2002. Here's a pic of me from back then, from the same site. I'm with Johnny Johnson of the Siddeleys: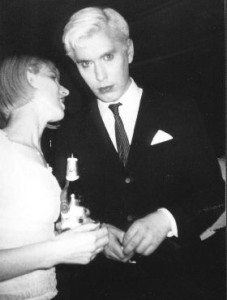 As you can see, I don't wear quite so much make-up at the moment.  Even though I have more reason to.
Monday 18 March – Suede tribute night & quiz at the Boogaloo in Highgate, marking THEIR new album. Quite a few familiar faces: David Barnett, Jen Denitto, Rob Britton (who does a superb version of 'Still Life'), David Shah, Ella Lucas, Aurore S, Keith TOTP.
Saturday 23rd March. Photo shoot for NYC's Rose Callaghan, with US dandy Nathaniel 'Natty' Adams asking questions, for a book of dandy portraits. Natty smokes,  which for a New Yorker must be an act of outrageous individuality: the smoking ban in NYC apparently even extends to the open air, including Central Park. I don a white suit and am photographed in the snow-covered Parkland Walk.
Rose and Natty buy me drinks at the Boogaloo before taking me to join their friends for dinner at The Dove in Broadway Market, Hackney. Their friends include Kira Goodey, who makes bespoke footwear (scarletfeverfootwear.com).
Very much the trendier part of Hackney. The Dove has unisex toilets, which is still quite rare: a row of stalls opposite a few washbasins. I like to think this encourages more men to wash their hands. It's common in London mens' lavatories to see someone walk straight from cubicle or urinal to the exit without using the sinks, often chatting on their mobile throughout their visit. I'd like to say it's young laddish types but I've seen the same behaviour from older, bookish gentlemen in the London Library loos. I try not to shake hands with men I don't know for this reason.
***
Here's three photos by Rose C, taken in September 2011. This is at Torrington Square, Bloomsbury, which I haunt most days as a student. Behind me on the right is the main Birkbeck college building, with its library. Further back is Senate House library, which I also frequent.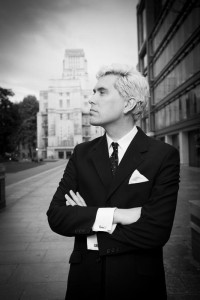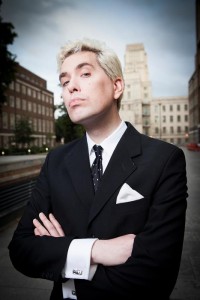 Photographs copyright Rose Callahan (www.rosecallahan.com)
Tags:
HDIF
,
natty adams
,
pics of DE
,
rose callahan