Tuesday 17 May 2016. To Vout-o-Reenee's to take a photo. It's for my entry to a Birkbeck competition, which is asking for photos on the theme of 'London Relocated'. An idea occurred to me, so I thought I'd give it a go. I thought about the way the Vout's club is effectively the spirit of bohemian Soho relocated, in this case a few miles east in Tower Hill. Tonight I get Sophie Parkin to pose at the bar for my hopeful little image, alongside her book on the deceased Soho club, the Colony Room. I also get my own membership card of the Colony into the shot, visible on the counter of the Vout's bar.
Sophie tells me about the charity Little Paper Slipper, which is having a major event at Vout's in June. This is a charity that organises therapeutic art workshops, for women affected by domestic abuse. The end result is a series of exhibitions of the eponymous slippers, each one personalised by the woman who made it. There's about 150 of them now.  The event at Vout's is going to be a fundraising auction, featuring shoes specially made for the charity by a group of artists, including Gavin Turk, Molly Parkin, and John Claridge.
I'm happy to help publicise the event. There's further details at Facebook here.
There's some fascinating photos of the workshop slippers at the charity website:Â www.littlepaperslipper.com/slippers.html
***
Wednesday 18 May 2016. Evening: my debut as a conceptual artist. I am given a sticker for my lapel which says: 'Dickon Edwards – Artist'. So it must be true.
The venue is Birkbeck's School of Arts, on the east side of Gordon Square, once home to Virginia Woolf. This week is Birkbeck's annual Arts Week, a series of free talks and events that are open to the public. Over the cast iron railings at the main entrance are the words 'ARTS WEEK' rendered as huge, colourful knitted letters. I discover that this display is not, as I'd hoped, the product of an MA course in Comparative Knitting, but the handiwork of two knitting-loving administrators, Claire Adams and Catherine Catrix.
Given the building's history, I wonder what would have happened if those fateful railings in Mrs Dalloway had been similarly wool-clad. Septimus Smith might have ended the novel in better shape. Another thought is The Muppets' Mrs Dalloway. Starring Miss Piggy as Clarissa: 'Moi will buy the flowers myself!'
Inside, Room 112 hosts The Contemporary: An Exhibition. This is a 'pop-up' show by four students of the MA Contemporary Literature and Culture course, and addresses the question: what is 'the contemporary'? The contributors are Kathryn Butterworth (in partnership with James Watkinson), Jassey Parmar, Dylan Williams, and myself. The event is the idea of the main course tutor, Grace Halden, who thought it would be good to have the MA represented during Arts Week.
Kathryn and James's display is a multimedia look at technology and literature: there's large boards covered in texts, computer diagrams, a model of DNA code, and laptops playing audio and video content. Jassey's exhibit is a series of photographs of London shop fronts, which blend different cultures and brands in unexpected ways. Twice during the evening, Dylan performs a selection of his own poetry. And I've contributed a social media installation titled Is It Just Me?
I had the idea some years ago. It was one of those ideas that don't go away. So I thought I'd either put it in a story, or just keep it in reserve, in case someone asked me to contribute to an exhibition.
So one day someone did, and here I am. A debut artist.
At the event, I give out an A4 handout to explain my thinking behind the installation. I've uploaded it here as a PDF:
Is it Just Me – installation handout
I also leave out a sheet of my handwritten notes for the project. I like the juxtaposition of the shifting internet content on the screen, with the fixed artifact of my handwriting on paper. Private traces of the body, versus public traces of the mind.
The event turns out to be decently attended, with tutors stopping by to say kind things. It all seems to go okay, and there's no technical hitches, thanks to the efficiency of Birkbeck's staff. How wonderful it is to have an idea which involves cables and equipment, but not have to worry about the cables and equipment oneself.
Here's some photos from the course's Facebook page (most of them taken by Lee Smith, used with permission):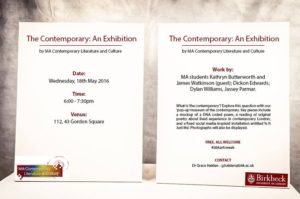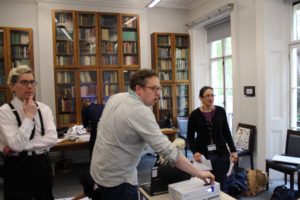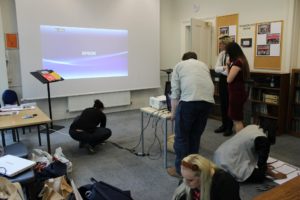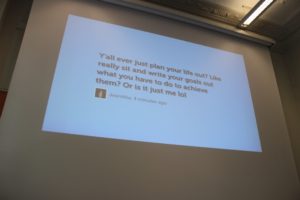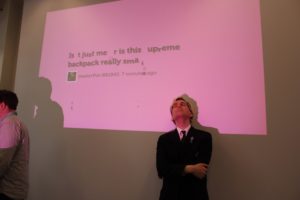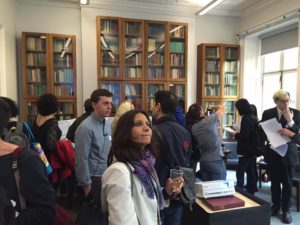 And here's a link to the Facebook page for the MA in Contemporary Lit and Culture
***
Thursday 19th May 2016. Thinking more about Prince, and about camp uses of the colour purple, I'm reminded of this anecdote from Gary McMahon's Camp in Literature (2006, p. 144):
'Brigid Brophy notes that [Ronald] Firbank often wrote his tales in purple ink on blue postcards, surface and colour being everything to camp. Brophy reveals that she too wrote her critical biography of the man [Prancing Novelist, 1973] in purple ink. My working copy of Brophy's book is on loan from Manchester University's library. At this purple confession on page 173, a university student […] has written this response in the margin:
"Are you [Brophy] really as besotted as this? If so, we don't want to know. At least maintain a pretence at objectivity, please."
McMahon remarks that this student represents a certain academic sensibility 'that is always going to be exasperated and offended by camp'.
Returning to Prince, I think of a friend's anecdote along the same lines. When this friend was growing up in the 80s, some blokish gentleman known to them – a friend or possibly a dad – took one look at a Prince record sleeve and remarked, quite out of the blue, 'I don't care what he sounds like. I'm not listening to anyone who dresses like that.'
***
Friday 20th May 2016. I receive the grade for my second essay on the MA. Despite my struggles with it, I am very pleased indeed to get a 76 (a mark over 70 is a Distinction, the MA equivalent of a First). The first essay got a 73. It's a nice boost to my confidence when I needed it most, wracked as I was with Difficult Second Term Syndrome.
For the rest of the summer, I have to get on with postgraduate-y things under my own steam, such as attending open lectures and pursuing my own research. But as far as the big assessments go, the pressure is off until the autumn.
Tags:
art
,
birkbeck
,
birkbeck arts week
,
brigid brophy
,
colony room
,
little paper slipper
,
Prince
,
ronald firbank
,
sophie parkin
,
vout-o-reenee's