Saturday 16 June. I DJ at the Last Tuesday Society shop at 11 Mare Street. The event is to mark the opening of an exhibition of Sebastian Horsley's art, though there's also quite a few exhibits which count as posthumous relics of his life, as in the medieval saint sense. One is his Filofax appointments diary, open at the week in which he died in 2010, now mounted in a box as if it were just as much a considered artwork as his huge paintings of crosses and sunflowers. It is art as souvenirs of a life. Which is one way of describing all art.
I wear his silver velvet suit, the one that his girlfriend Rachel Garley picked out for me. Rachel is there herself, as is Ms Manko and Jason Atomic – people I knew from my Kash Point days. A few people say hello who read my blog, which is always nice. Particularly when they buy me drinks. Someone says the suit makes me look like… (wait for it)…  "David Bowie during the Serious Moonlight tour".
***
Monday 18 June:  one of the buttons on The Sebastian Shirt has broken, its plastic clasp split. So today I look for a replacement. In his book (and in the Tim Fountain stage play), Sebastian quips about needing covered buttons because 'there's nothing so rude as an uncovered button'.
It is only now that I realise just what the phrase 'covered button' truly means. It means that not only has the shirt been handmade, but the buttons have been handmade too, covered with the same material as the shirt. I don't think I can cut a piece off the shirt to do this – that feels rather wrong. It is, after all, made by Turnball and Asser, shirtmakers to The Prince Of Wales.
So, seeking a replacement, I take the broken button to John Lewis. They're not much use, as they deal only in the uncovered sort.  Then to The Button Queen shop in Marylebone Lane. They are very nice but they send me away to hunt down a ribbon of matching material first. This feels too much like hard work. I like errands to be self-contained and finite, not to give birth to further errands with no end in sight.
Taylors Buttons in Cleveland Street saves the day. The business has been going for over 100 years, and the lady who runs it, Maureen Rose, has herself owned the shop for 60 years.
Ms Rose suspects correctly that I want the problem solved with zero further effort on my part. She finds some white material in a bag and makes me a replacement button on the spot. It takes her about two minutes, and she charges me £1.
News story about Maureen Rose here.
***
Evening: to the Wheatsheaf pub in Fitzrovia, for a book event hosted by the Sohemian Society. Cathi Unsworth talks to Laura Del-Rivo about her wonderful 1961 novel of bohemian Soho life, The Furnished Room. Ms Del-Rivo describes the sense of needing to find other bohemians in her youth vividly – the sheer relief at discovering the shared houses and bars where there were people like her. These days all one needs to find people as strange as oneself is just to go on the Internet; back then, you had to move house.
Afterwards I chat with Travis Elborough in the alleyway outside. Suddenly a taxi drives through – Ms Del-Rivo and the rest of us have to stand aside – and out gets Ben Goldacre, who is a kind of Cult Author of today. He happens to be on his way to something nearby, but stops for a quick chat. It's all Very London – different worlds of writers, different interests, but always colliding.
Another Very London moment is when I arrive before the talk and join Travis as he chats to a blond woman. I'd assumed she was some friend of his. In fact he'd arrived by himself, and has known her about five minutes; it's just that the atmosphere is of such unabashed and open friendliness, the kind people might associate more with New York. Halfway through the event, she is sitting with us when, without a word, she gets up and leaves and is never seen again.
A line from The Furnished Room (paraphrasing), which seems Very London, 50s and now:
'But what exactly are you looking for?'
'Something to look for.'
***
The Furnished Room has just been republished by Five Leaves, available here. Highly recommended.
I love this photo of Laura Del-Rivo, taken by Ida Kar in the early 60s: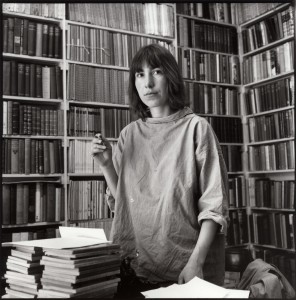 Tags:
ben goldacre
,
last tuesday society
,
laura del rivo
,
Sebastian Horsley
,
travis elborough