Sunday: Mother's Day. Chatted on the phone to Mum in Suffolk (Dad recovering from a sudden drop in his condition last week). Bought Mum a Chet Baker CD box set from HMV Piccadilly. It's a kind of double souvenir of history: a recording of the past, purchased in a shop that will also shortly be a thing of the past.  Certainly the last time one can buy a CD in Piccadilly Circus.
My brother Tom, meanwhile, has appeared in Guitar Player magazine, talking about playing with Adam Ant.
***
London still freezing. Spent Sunday reading Toni Morrison's Beloved for the college course.
Discovered Somerset House's newish East Wing cafe. It's open late even on Sundays, provides free refills for pots of tea, has nice staff, and lots of seats. CD music playing – techno-y instrumental fare- not too annoying. Hardly anyone about today: the ice rink has gone, but the lit-up summer fountains aren't yet in place.
Also spent time in the ICA café.  In the ICA, one often sees a few obvious-looking tourists on the way back from Buckingham Palace, who just come in to use the toilets. At the moment such tourists have to walk past an enormous Juergen Teller nude photograph of Vivienne Westwood.
***
A sketch of me from 2003, by Jason Atomic: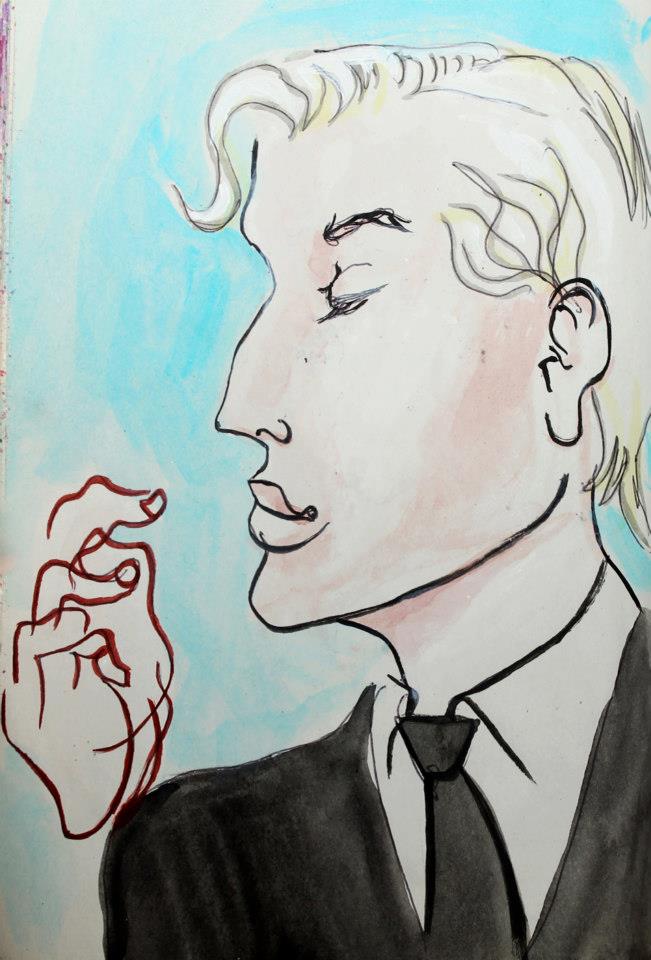 Credit: Jason Atomic. http://jasonatomic.co.uk
***
Travis Elborough tells me that he found a passage in my diary from June 2002 which now seems to anticipate the social media saturation of 2013:
'When I first started this diary in 1997, when the Internet was in black and white, when you could leave your wife unlocked and still get change from a fiver, online diaries were a comparative novelty. I was even something of a Minor Internet Celebrity by default. But now these things called "web logs" or "blogs" (I do hate that word) are everywhere, and everyone is crying out like at the end of Death Of A Salesman: "ATTENTION MUST BE PAID."
'Before the Internet, people knew full well they were simply one of billions. They just didn't let it bother them too much. Now, they go to their computers, log on, gaze out at a sea of a billion faces and find out to their horror that the world doesn't revolve around themselves after all. And it terrifies them.'
Mr Elborough has an intriguing new book out: London Bridge In America. There are reviews at his website: http://traviselborough.co.uk/
***
Tags:
cafes
,
college reading
,
ICA
,
jason atomic
,
London
,
somerset house
,
spot the Sherlock quote
,
travis elborough