Tuesday 8th October. To Westminster Reference Library for the launch of A London Year, edited by Nick Rennison and Travis Elborough. It's a large, beautifully designed, greenish-blue hardback, and collects a variety of London-themed excerpts from real life diaries, arranged so that each day of the year is represented by at least one entry. The book is currently on display in every London bookshop I've been wandering into of late. There's a whole table of them at Waterstones Piccadilly, right near the entrance.
I'm flattered to see my own diary is in the book, eleven excerpts of it, alongside the journals of pretty much everyone I can think of who fits the brief: Pepys, Swift, Keats, Dickens, Woolf, Van Gogh, George Eliot, Queen Victoria, John Betjeman, Tony Benn, Alan Bennett, Derek Jarman, Michael Palin, Brian Eno and Evelyn Waugh.
Clayton Littlewood is also in there, with excerpts from Dirty White Boy and Goodbye to Soho. He's the only other diarist in the book who's at the event, though the stars of the show are really Mr Rennison and Mr Elborough. Aside from giving permission, I had no input in the selection. So until I saw a finished copy I didn't know which entries of mine they were going to use, or that they'd use quite so many. It's been a pleasant surprise.
At the event, Helen Gordon reads a typically ribald 1940s entry by Joan Wyndham. Ms Gordon had a novel out with Penguin recently (Landfall), and I'm reminded that she's a good example of a Well Dressed Contemporary Novelist, reading in Jazz Age-style pleated chiffon trousers. Also present are Bill & Alex Mayor, Ms Lettie, Tim B, Andrew Martin, Paul Kelly, Debsey Wykes, Bob Stanley (currently in the middle of promoting his own massive book, Yeah Yeah Yeah, about the history of pop), Emily Bick, and a certain actor who I think I last saw several lifetimes ago, at Bristol Old Vic Theatre School.
Afterwards I repair with a few of the gathering to the rather cosy Tom Cribb pub in Panton Street, and stay far too late and drink far too much. Chat with Paul Kelly about the political side of his London films made with Saint Etienne (finally out on DVD as A London Trilogy) : he compares his approach with the records of The Specials – the political message is there if you look for it, but the apolitical side – the art for art's sake side, I guess – must always come first.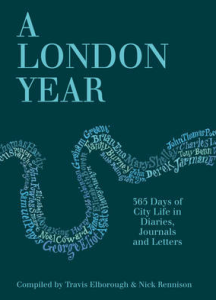 Tags:
a london year
,
Books
,
diaries
,
paul kelly
,
travis elborough