The Diary Angels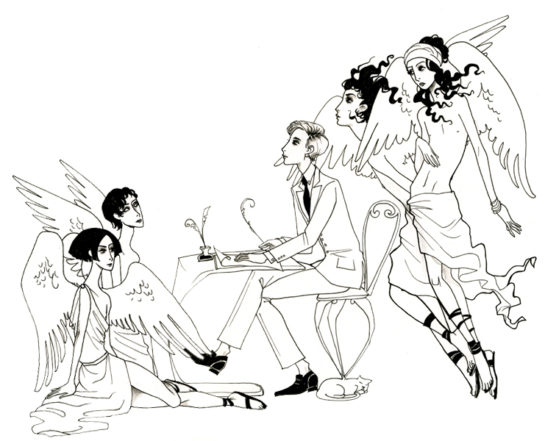 (Illustration by Lawrence Gullo).
This isn't my idea. Honest. Victoria Mary Clarke suggested it over lunch one day. And then I received an email from reader Mike Morris, proposing the same idea.
If you have enjoyed this site and the diary, please consider making a donation using the PayPal button below. Amounts over £50 enroll you into the Diary Angels. For full details, see the Angel Pledges below.

THE DIARY ANGELS
My thanks to everyone below, and to those who donated anonymously. If I've left your name out, please let me know.
Raymond Anderson
Angel Jane
April Angell
Anthony Åslund
Chris Bailey
Kerry Barrass
Anders Bernland
Jane Berry
Pete Bowers
Kate Bufton
Reggie Chamberlain-King
Lady Cheval
Victoria Mary Clarke
Daniel Clift
Kate Connolly
Troy Cook
Gary Cook
Adam Cummins
Jeremy Dennis – for art services
Stephen Eastwood
Gordon Edgar
Francesc Ara Franco
Alison Freebairn
Brian & Lynne Edwards
Joris Gillet
David Gladwin
Ruth Graham
Anthony Green
Mary Groom
Lawrence Gullo
Daniel Gutierrez
Lesley Hall
David Harley
Ana Haworth
Katherine Heilman
Ben Henley
Rob James, close-up magician
Jupiter John
Tom Johnson
Emilie Jonsson
Laura Kidd
Fatima Kola
Shane MacGowan
Michael J Maciolek
Boudicca Maloney
Rhodri Marsden – for Internet hosting services
Mike Morris
Ally Moss
Jonathan Norton
Neil Scott – for website building services
Veronica Reveles
Jenni Scott
Brandi Shawn
Vanessa Siegl
Paola Sorrentino
Anna Spivack – for haircutting services
Charley Stone
Butch Sweaters
James Tuddenham
Robert Wringham

THE ANGEL PLEDGES (revised March 2020)

I, Richard "Dickon" Edwards, being of almost sound mind and body, hereby make the following Pledges to my Diary Angels.
1. I pledge to write a regular diary update, comprising at least 1000 words.
2. I pledge to treat it as if it were a proper diary, rather than a blog.
3. I also pledge to be my own brutal whip-cracker of an editor, my own tutting sub-editor and my own wary libel lawyer.
4. I pledge to write as if the whole world is reading, and as if whole worlds to come are reading too. I do not believe in 'Friends Only'.
5. All writing, if it is any good, is about inviting all possible readers for a one-to-one dance.
6. The Diary Angels scheme might be seen as:
(a) A vote of support for the penurious Mr Edwards and his archive of two decades' worth of diary entries.
(b) Sponsoring A London Dandy.
(c) A Tip Jar.
(d) Keeping Mr Edwards on the Straight and Narrow. Well, out of Trouble, anyway.
7. I pledge to sit up and listen to the Angels if they have comments about the Diary. Within reason.
8. As a Sponsored Dandy, I pledge to maintain my appearance with the diligence and zeal of any other worker's uniform.
9. I will nag myself to keep the diary updated, and strive to eschew self-indulgence or baffling references of little import to the wider world.
Signed,
Dickon Edwards